Homepage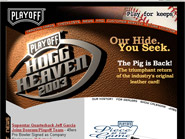 View Cards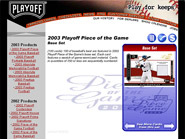 It's Playoff Season
Playoff makes some of the best sports trading cards in the industry. Their primary focus is combining the latest print technology with very high-end card designs and memorabilia from today's hottest players. The website had to convey the same high-tech, high-action sports feel that was represented on the cards.
Since Playoff releases an average of one card product every few weeks the site also had to be easy to update.
A content administration system was created to enable copywriters to add news storys and announcments, without having to learn HTML or extra software. The card checklists are populated from a card database searchable by player or team. The product information is displayed in Flash and populated by an XML file, which allows products to be added and edited easily.