Title Screen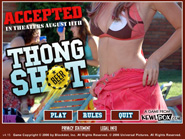 Game Play 1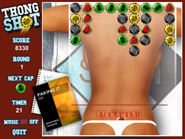 Game Play 2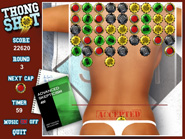 Thong Shot
For Universal Studio's "Accepted" Movie
"...so, what are we going to use to fling the beer caps up to the rest of the beer caps?"
"hmmmm....hey wait! I know. Let's just use the top part of her thong."
And thus, "Thong Shot" was born. Yes, it doesn't get any more college than a game that features beer caps and a topless tanning co-ed. This was one of those cases where it's not the uniqueness of the game that makes it work...it's all in the presentation.
Players use the top of a sunbather's thong to propel beer caps upward toward other colored caps. Make a match and they disappear...score. We also had a lot of fun coming up with the names of the books that accompanied her.
My Role

3d Modeling/Texturing/Lighting
Art Direction