Distance Select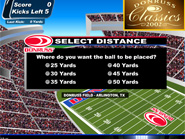 Gameplay 1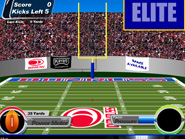 Gameplay 2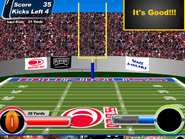 Golden Toe
Can You Take The Pressure?
This advergame was developed for Donruss sports trading cards. I combined a bit of strategic risk taking with a test of skill for this tiny 933k download.
Gameplay is simple. Step 1: select the distance to want to attempt to kick the fieldgoal. Step 2: Hit the space bar once to set the power meter going. Step 3: Hit the space bar a second time to select your kick power and start the directional arrow moving. Step 4: Hit the space bar one last time to select the direction for your kick and set the ball flying. Point are awarded for each successful kick. The longer the kick, the more points are awarded. The player gets to attempt five kicks and all the points are totaled to calculate the final score.
Sounds simple, right?
As in real life, the problems with kicking field goals is the pressure. The same holds true for this game. The longer the kick the more pressure is applied on the kicker and the harder it is to get an accurate kick. You can ease the amount of pressure on any given kick by successfully completing previous kicks. So, after kicking 4 successful short kicks, kicking that 50 yard field goal won't seem nearly as hard. However, missing your first couple of kicks can prove tough to recover from.
Although I handled the game design, graphics, and flash programming of the game I had to turn to my local genius Rusty Bentley for the calculus equations for the flight of the football.
My Role

Game Design
Flash Programming
Art Direction