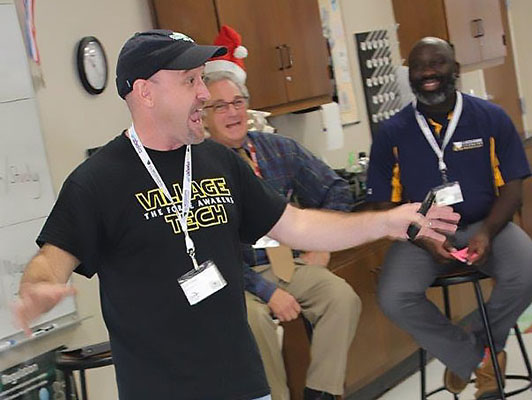 First off, let me just say 'hi' and thank you for taking the time to check out ToddWorld. I'm Todd, and I'm a dad of two...one boy, one girl. I mean technically they're both almost legally able to drink but...they'll always be "my kids". I've got an amazing wife, who is also a high school teacher and photographer. It's safe to say that I've led a pretty charmed life. I'm both aware and thankful for that.
My Career
With a career spanning over three decades, I've had the unique opportunity to explore a variety careers, from traditional advertising, interactive design, and game design to education, always embracing leadership roles and pushing the boundaries of creativity and innovation.
The Early Days
As a tech enthusiast from an early age, I began programming in BASIC at just 8 years old. By the time I was 9, I had programmed my first video game. My passion for gaming and technology led me on a remarkable journey that has allowed me to collaborate with some of the world's leading companies, including Microsoft, Universal Pictures, Lego, National Geographic, and Lucasfilm. Along the way, I've had the pleasure of working with iconic figures, and childhood idols, such as guitarist Eddie Van Halen, legendary game designer Scott Adams and the most successful illusionist of our time, David Copperfield.
Throughout my diverse career, I've held positions as the creative director of a multi-billion dollar global company and contributed to the growth of small independent start-ups. For nearly the past decade, my focus has shifted towards empowering the next generation as a high school design instructor. My classes, like graphic design, digital interactive media, game design, and digital photography, all share one common thread – nurturing creativity and teaching people to see things differently.
A Passion for Creativity
My unwavering enthusiasm for helping others embrace technology, see things differently, and think outside the box has led me to public speaking engagements at educational conferences across the state, national, and international levels. I delight in sharing my insights on creativity, gamification, artificial intelligence, and virtual reality, all while connecting with others through platforms like Twitch, YouTube, and the ToddWorld Discord, our vibrant online creative community.
In the ever-evolving landscape of technology and creativity, my mission is to inspire others to unlock their potential, embrace new ideas, and be fearless in their pursuit of creativity and innovation. So, whether you're a fellow educator, a creative professional, or someone curious about the future of design and technology, I invite you to join me on this exciting journey. Let's explore the limitless possibilities together and level up our creativity.